The Maquoketa Public Library is changing up book clubs for 2023. Instead of reading two separate books each month, we're choosing one title and offering two options to meet for discussion. Past titles include Empire Falls by Richard Russo, Bear Town by Fredrik Backman, The Rose Code by Kate Quinn, and The Passengers by John Marss.
If you run or are thinking about starting a book club, we have a collection of multiple copies of books you are welcome to check out. We are also happy to help assist you in interlibrary loaning materials at no cost.
---
Matrix
by Lauren Groff
Cast out of the royal court by Eleanor of Aquitaine, deemed too coarse and rough-hewn for marriage or courtly life, seventeen-year-old Marie de France is sent to England to be the new prioress of an impoverished abbey, its nuns on the brink of starvation and beset by disease.

At first taken aback by the severity of her new life, Marie finds focus and love in collective life with her singular and mercurial sisters. In this crucible, Marie steadily supplants her desire for family, for her homeland, for the passions of her youth with something new to her: devotion to her sisters, and a conviction in her own divine visions. Marie, born the last in a long line of women warriors and crusaders, is determined to chart a bold new course for the women she now leads and protects. But in a world that is shifting and corroding in frightening ways, one that can never reconcile itself with her existence, will the sheer force of Marie's vision be bulwark enough?

Equally alive to the sacred and the profane, Matrix gathers currents of violence, sensuality, and religious ecstasy in a mesmerizing portrait of consuming passion, aberrant faith, and a woman that history moves both through and around. Lauren Groff's new novel, her first since Fates and Furies, is a defiant and timely exploration of the raw power of female creativity in a corrupted world.
Join us at the library.
Tuesday, January 17th @ 6:30 PM
OR
Friday, January 20th @ noon
Possession
by A.S. Byatt
Winner of England's Booker Prize and a literary sensation, Possession traces the lives of a pair of young academics as they uncover a clandestine relationship between two long-dead Victorian poets. As they unearth their letters, journals, and poems, and track their movements from London to Yorkshire—from spiritualist séances to the fairy-haunted far west of Brittany—what emerges is an extraordinary counterpoint of passions and ideas.
Join us at the library.
Tuesday, February 21st @ 6:30 PM
OR
Friday, February 17th @ noon
---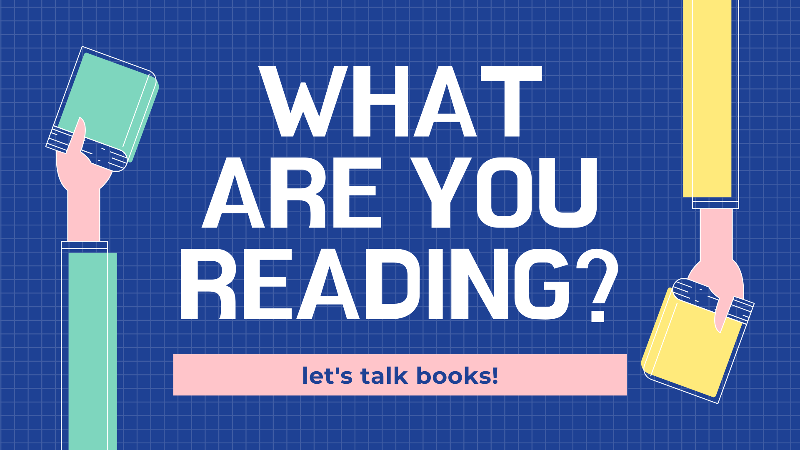 What Are You Reading
Join us at 7 PM on Tuesday, Janaury 31st via Zoom to discuss what we've been reading.
---
Maquoketa Hometown Pride and Maquoketa Public Library have partnered to bring you Hometown Pride READS, a free community-focused book club whose main topic is just that – building community.

Limited copies of the titles will be available on a first come, first serve basis at the front desk. Participants are also encouraged to take part in our InterLibrary Loan program, download eBooks or audiobooks, or purchase their own copies. (Sharing of physical copies is a great way to build community!).

Not currently a library patron? What a great time to stop by the library and sign-up for a library card!

Hometown Pride READS is a partnership of Maquoketa Hometown Pride and Maquoketa Public Library.
No title currently selected.