The Maquoketa Public Library is changing up book clubs for 2023. Instead of reading two separate books each month, we're choosing one title and offering two options to meet for discussion. Past titles include Empire Falls by Richard Russo, Bear Town by Fredrik Backman, The Rose Code by Kate Quinn, and The Passengers by John Marss.
If you run or are thinking about starting a book club, we have a collection of multiple copies of books you are welcome to check out. We are also happy to help assist you in interlibrary loaning materials at no cost.
---
Devolution
by Max Brooks
As the ash and chaos from Mount Rainier's eruption swirled and finally settled, the story of the Greenloop massacre has passed unnoticed, unexamined . . . until now. The journals of resident Kate Holland, recovered from the town's bloody wreckage, capture a tale too harrowing—and too earth-shattering in its implications—to be forgotten. In these pages, Max Brooks brings Kate's extraordinary account to light for the first time, faithfully reproducing her words alongside his own extensive investigations into the massacre and the legendary beasts behind it. Kate's is a tale of unexpected strength and resilience, of humanity's defiance in the face of a terrible predator's gaze, and, inevitably, of savagery and death.

Yet it is also far more than that.

Because if what Kate Holland saw in those days is real, then we must accept the impossible. We must accept that the creature known as Bigfoot walks among us—and that it is a beast of terrible strength and ferocity.

Part survival narrative, part bloody horror tale, part scientific journey into the boundaries between truth and fiction, this is a Bigfoot story as only Max Brooks could chronicle it—and like none you've ever read before.
Tuesday, October 17th @ 6:30 PM
OR
Friday, October 20th @ noon
The Lions of Fifth Avenue
by

Sarah Gailey

It's 1913, and on the surface, Laura Lyons couldn't ask for more out of life—her husband is the superintendent of the New York Public Library, allowing their family to live in an apartment within the grand building, and they are blessed with two children. But headstrong, passionate Laura wants more, and when she takes a leap of faith and applies to the Columbia Journalism School, her world is cracked wide open. As her studies take her all over the city, she is drawn to Greenwich Village's new bohemia, where she discovers the Heterodoxy Club—a radical, all-female group in which women are encouraged to loudly share their opinions on suffrage, birth control, and women's rights. Soon, Laura finds herself questioning her traditional role as wife and mother. And when valuable books are stolen back at the library, threatening the home and institution she loves, she's forced to confront her shifting priorities head on . . . and may just lose everything in the process.

Eighty years later, in 1993, Sadie Donovan struggles with the legacy of her grandmother, the famous essayist Laura Lyons, especially after she's wrangled her dream job as a curator at the New York Public Library. But the job quickly becomes a nightmare when rare manuscripts, notes, and books for the exhibit Sadie's running begin disappearing from the library's famous Berg Collection. Determined to save both the exhibit and her career, the typically risk-averse Sadie teams up with a private security expert to uncover the culprit. However, things unexpectedly become personal when the investigation leads Sadie to some unwelcome truths about her own family heritage—truths that shed new light on the biggest tragedy in the library's history.

Tuesday, November 21st @ 6:30 PM
OR
Friday, November 17th @ noon
---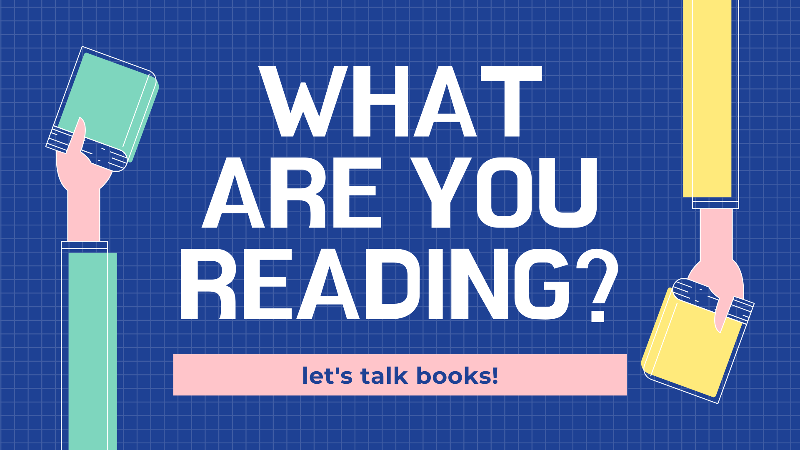 What Are You Reading
Join us at 7 PM on Tuesday, October 24th via Zoom to discuss what we've been reading.
---
Maquoketa Hometown Pride and Maquoketa Public Library have partnered to bring you Hometown Pride READS, a free community-focused book club whose main topic is just that – building community.

Limited copies of the titles will be available on a first come, first serve basis at the front desk. Participants are also encouraged to take part in our InterLibrary Loan program, download eBooks or audiobooks, or purchase their own copies. (Sharing of physical copies is a great way to build community!).

Not currently a library patron? What a great time to stop by the library and sign-up for a library card!

Hometown Pride READS is a partnership of Maquoketa Hometown Pride and Maquoketa Public Library.
No title currently selected.